February/March Dairy Ingredient Market Update
        Dairy prices are mostly moving down to a bearish state as the world wrestles with higher production. However, some bullish forces remain. Here are some recent headlines:
US Milk production slowing, EU very strong and NZ falling slightly
After Butter prices rocketed then crashed we have seemed to hit a short-term flat period, but with butter being volatile it can be hard to say.
NFDM prices appear to have found a bottom, but stocks cast a long shadow over the market place.
US Cheese demand is remarkably strong, but inventories continue to build and prices have softened
Whey futures prices have flattened out with a very narrow range through all of 2016
WPC prices still on low end with light upward momentum
Lactose and Permeate prices steady to up
        Milk Production in the US continued to slow in January 2016, increasing 0.3% YOY compared to December's increase of 1.5%. USDA January milk production provided better clarity to the effects of the winter storms that devastated much of New Mexico and Texas. New Mexico and Texas lost 15,000 head due to the storm- slowing down US production to 0.3%- the lowest since October 2015. This storm had little to no bullish effect, at best preventing milk prices from sliding further. Most of the lost milk in TX/NM would have gone into NFDM or MPC production; both already saturated markets, thus further diluting any bullish impact. California milk production continues to be down -2.7% versus January of last year and milk production per cow is down -2.5%.  However, with the milder winter in the upper Midwest and East, milk production per cow is much higher this time of year than last year (WI up 3.7% NY up 3.4%). This evidence further supports our flat to bearish milk outlook in the latter half of 2016.
        EU milk production can only be described as enormous and is by far the largest contributor to the overall over- supply and increasing stocks situation. The EU's December '15 production was up 4.9% versus last year, which equates to 1.26 billion addition of fluid milk. With EU's Milk shed being 1.6x the U.S and 6.8x NZ, a small percentage change can lead to massive changes in volume.  Countries with large growth in December YOY production are Ireland (30.3%), Netherlands (16.6%), UK (5% source AHDB Dairy), Poland (7.5%) and Germany (6.2%) (Source: Eurostat). Northern Europe is experiencing a much milder winter that's driving production up even further. New Zealand Milk supply is down 1.8% YOY in January; improvement from being down 2.8% YOY in December. This slowing decline can be partially attributed to a wetter January than February. Favorable weather and cheap feed have allowed many global farmers to avoid the pain of lower commodity costs.
        Butter in the US has started to correct itself as butterfat components from farms and imports have increased. Imports to the US should continue at high levels through 2016 with the disparity between US and Global butterfat prices. Butter inventories continue to build well above previous year levels, as well as being at the second highest levels in 8 years. An early Easter is keeping some slight upward pressure on the market in the near term, although it is likely that the retailers' supply pipeline is mostly filled. Other more long-term bullish factors can pop up, such as new foodservice industry demand (scenarios such as McDonalds) in addition to a higher than average summer temperature.
        Cheese prices continue to show signs of weakness, but prices remain relatively stable. Cold storage inventories do paint a bearish picture as inventories continue to build, with perhaps even higher numbers after the Easter demand is over. Since milk production continues to increase in the Midwest we expect cheese stocks to increase accordingly. Although cheese demand is increasing year over year, it looks like supply will continue to grow as it is more profitable to make cheese/whey than butter/powder. Cheese futures show CME block prices increasing as much as 20 cents in 2016.
        NFDM prices continue to be driven by global markets; EU and NZ are hammering milk into NFDM, thus keep US prices depressed. The US is gaining market share in Mexico and other South American countries, but this seems to be more of a supply shift as EU and NZ take more of the Chinese market. A Big question is whether or not Mexico can keep pulling such astounding numbers from the U.S. In 2015, Mexican demand accounted for 25% of the entire U.S supply.
        Strong Cheese production will keep a heavy flow of whey products into the market. For much of 2015 we saw multiple whey processors switching from higher protein derivatives to sweet whey powder. The returns for whey protein isolate, WPC 80, lactose and permeate have not been able to keep up with standard dry whey and thus, where possible, production has shifted. More recently, the higher protein whey products have shown significant strengthening off 1st quarter lows as spot WPC 80 prices reach well into the $2.00 levels. WPI prices also appear to be flat from Q1 to Q2. The futures whey curve indicates that the market is expecting price stabilization going through the year. Consumer demand for whey proteins appears to be strong at the retail level and with inventories much lighter than 6 months ago; it's very possible that prices will further appreciate from 2016 into 2017.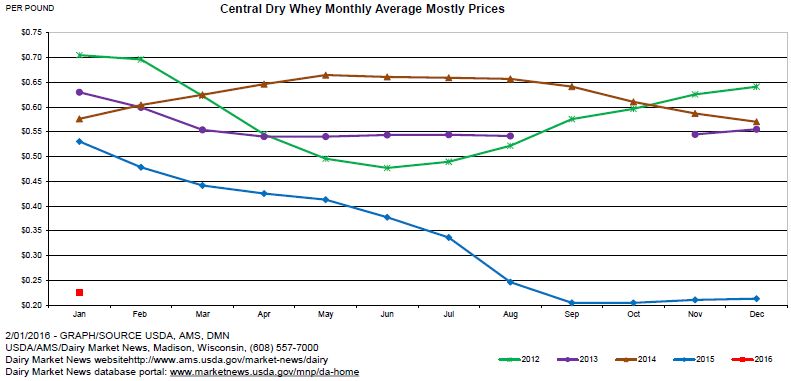 Like sweet whey powder, lactose and permeate prices appeared to have reached their lows in Q1 and are up going into Q2. Inventories are decreasing and demand from Asia can be categorized as good. If Chinese imports of US whey products (Permeate and Lactose) continue to increase like we have seen in 2016, there will be more upside within these markets.